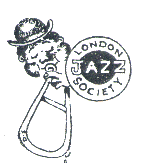 London Jazz Society
Recent Events
On June 4th, 2006 the
London Jazz Society
presented the local group
'Vibe Tribe and Friends'
The Vibe Tribe and Friends
from London, Ontario
On Sunday June 4th, 2006 at 2 P.M. the London Jazz Society featured the Vibe Tribe and Friends. This gig was originally booked for the group Dr. D. and All That Jazz but ill health has forced Dr. D. and All That Jazz to ask us to postpone their visit until next year. We wish Dr. D. well in his recovery and look forward to 2007. Dr. D. and All That Jazz are based in Sarnia and are the backbone of the annual Can-Am Jam.
Replacing Dr. D. on June 4th was the Vibe Tribe and Friends. This is not the first time that leader Mark Henning and the group have come to our rescue. A dozen years ago your club and the Faculty of Music at the University of Western Ontario arranged to bring Canadian jazz icon, composer, educator, clarinettist, Phil Nimmons to London for two concerts.
The group that was to back Nimmons for your club's concert in the afternoon withdrew at the last minute and that is when the Vibe Tribe stepped in. Our afternoon was a success as was the evening concert with Nimmons performing with the UWO Jazz Ensemble.
The Vibe Tribe has numerous credits on their collective resumes. The group's leader is guitarist Mark Henning. Other regulars are Don DiCarlo, piano; Rick McLelland, bass; and drummer Brian McHugh. On June 4th the Vibe Tribe was complemented by the addition of some special guests.
Together, or with other groups, they have performed at a number of jazz festivals including the Forest City Jazz Festival and the Dorchester Jazz Festival. Band members have performed with QED, 16 Strings, Denise Pelley, Mat 'Guitar' Murphy, the Ink Spots, Chuck Berry, Keith Barrie, and many others.
Mark played in several different bands with the late great Montreal drum legend Dennis Brown. Don studied with Mark Eisenman of York University and Humber College (both in Toronto) and completed courses at the famed Berklee College of Music in Boston.
Rich has performed with Del Shannon and James Cotton. He recorded with the Juno Nominated Oliver Whitehead Quartet. Brian is a graduate of the music program at the University of Western Ontario as well as the Los Angeles Percussion Institute of Technology.
He has played in a variety of musical genres ranging from country to jazz and has performed extensively throughout Canada, the United States, Europe, and the Caribbean. The London Jazz Society thanks all our members and friends who attended this live event.