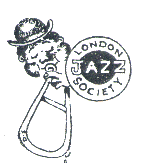 London Jazz Society
Recent Events
Our March, 2006 gig at the
Mocha Shrine Centre featured
the remarkable Ken Varley Trio
The Ken Varley Trio
from London, Ontario
On Sunday March 12th, 2006 at 2 P.M. the London Jazz Society presented the Ken Varley Trio, a proud hometown group. Ken is one of London's most respected pianists and he brought his jazz trio to our stage at the Mocha Shrine Centre. The Ken Varley Trio is well-known throughout Southwestern Ontario having performed at Garlic's Restaurant, and Maggie's Supper and Jazz Club here in London.
They have also performed at the Church Restaurant, Fellini's, the Victoria Inn in Stratford and they have graced the stages of the Little Inn and the Benmiller Inn in the Goderich area. They currently play Thursday evenings at the Tru Restaurant and Lounge 45 King Street here in London.
The other members in the trio are Craig Smith on acoustic bass and Rob Larose on drums. This is the same personnel featured on their CD 'Basically For You' which was available for purchase on March 12th.
Craig Smith is classically trained and honed his craft with the Toronto Symphony Youth Orchestra, the World Youth Orchestra, and the National Youth Orchestra. From 1984 through 1990 he performed with the Kingston (Ontario) Symphony.
Rob Larose is a graduate of the University of Western Ontario where he studied with Bob Hughes (Bob and Ken are both London Jazz Society members.) To gain a wider range of experience Rob also studied at Humber College in Toronto with Roger Flock and Latin specialist Rick Lazar. As Head of Music at South Collegiate he is able to introduce students to 'the wonderful world of jazz.'
Ken Varley is basically self-taught and lists his major influences as Oscar Peterson, Bill Evans, and Gene Harris. From his teen years in Timmins he has led various sized groups, but his favourite format remains trios consisting of piano, bass, and drums. The London Jazz Society thanks all our members and friends who attended this live event.
Below you will find three photos of the Ken Varley Trio concert taken by Mike Poliszuk.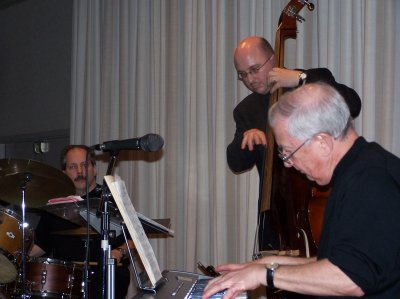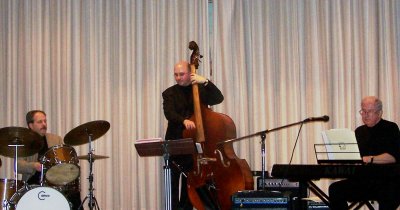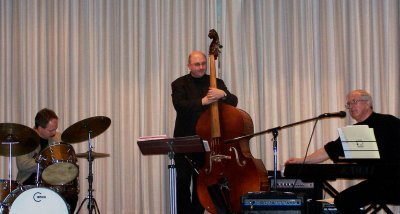 Images courtesy Mike Poliszuk. All rights reserved.