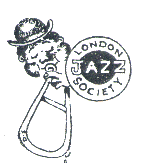 London Jazz Society
Recent Events
Our April, 2005 gig at the Mocha
Shrine featured the ever popular
Trillium Dixie Jazz Band.
The Trillium Dixie Band
On Sunday April 10th at 2 P.M. the London Jazz Society presented the Trillium Dixie Jazz Band at the Mocha Shrine located at 468 Colborne Street, just north of Queens Ave. With only nine gigs each year, it is impossible to bring bands back to our stage for a return engagement as often as we would like. However, the wait was over for the Trillium Dixie Jazz Band. Trillium has been an institution for 25 years and just gets better and better with the passage of time.
Their repertoire included many old tunes played in the New Orleans tradition. Coming to London held nostalgia for two members of Trillium who are graduates from the University of Western Ontario. Pianist Jack Hutton (Journalism '55) and the bands manager/banjo/tenor guitar player, Marguerite Urban (Library and Information Science '89.)
Drummer Rick Faye is a graduate from the Ontario College of Percussion. Rick has 30 years experience as leader or sideman playing almost all styles of music. His credits include a Juno Award nomination and a Gold Record as writer, producer, and performer in the best children's music category.
Struttin' Jack Hutton was pianist with the Rainbow Gardens Jazz Orchestra. In 1997 he received the Pauline McGibbon Life Achievement In The Arts Award. Jacks CD, 'The World is Waiting for the Sunrise' is a tribute to the composition of the same name and its two Canadian authors, Ernest Seitz and London's own Gene Lockhart who went on to gain fame as an actor in Hollywood.
Trumpeter Ted Richardson first visited Muskoka to work at the Britannia Hotel. He eventually joined and later became leader of the hotel's house band. He performs with numerous Toronto bands including Swing Shift and Gid Rowntree's Swing Band. Toronto based multi-talented Gid Rowntree usually plays trombone but has been known to fill in on clarinet, cornet, drums, bass, or piano.
Bill Urban was born in Pittsburgh PA where he studied painting. After moving to and living in Venezuela for a time, he relocated to Muskoka where he settled and now occupies his time as a visual artist. Before founding the Trillium Dixie Jazz Band, Bill was clarinetist with Night Train and Newholm's Greatest Jazz Band (precursor to Trillium.)
Marguerite Urban was born and raised n the heart of Dixie in Louisiana. She spent time in New York, New Jersey and Venezuela before making the move to Muskoka. She is also a veteran of Night Train and Newholm's Greatest Jazz Band. Werner Cameron will be joining Trillium for this visit. Cam has played numerous gigs with a number of bands over the last decade. The London Jazz Society thanks all our members and friends who attended this live event.