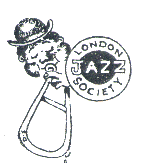 London Jazz Society
Recent Events
On July 2, 2005 the London Jazz
Society organized a bus trip to the
Toronto International Jazz Festival
The Toronto International Jazz Festival
On Saturday July 2nd, London Jazz Society members and friends borded a bus to travel to the mega city for a day of great jazz music. The Toronto Downtown Jazz Festival is rated with 'the best in North America.' Special events were seheduled for the final weekend of this 10-day festival so once again, our trip was planned for the last Saturday.
Passengers on the bus disembarked at the Sheraton Centre Hotel, 100 Richmond Street, between Bay and York Streets. The hotel has several entrances from which jazz fans could travel to events with the most notable being the main entrance on Richmond Street. Toronto City Hall and Nathan Phillips Square are located just across the street from the Sheraton Centre Hotel and many jazz festival events were staged there.
The Square was the hub of activity and featured the Artisan Village, a Wine Garden and Deli, and two new lounges namely the BenQ Lounge, and the Workshop Lounge. Free daytime concerts were also featured in the Square, while ticketed marquee events, on the Toronto Star Stage, occured in the evening. A couple of blocks west of the Square, at 194 Queen Street, is The Rex Jazz and Blues Club where the stage was set for continuous entertainment from noon until the wee hours of the morning.
The London Jazz Society contingent had the opportunity to see several jazz groups including the Swing Shift Band, the Chris Hunt Tentet plus 3, the Happy Pals at Grossman's Tavern, Jeff Healey and the Jazz Wizards at Healey's Bar and Grill, and the Climax Jazz Band at the Chicken Deli. Starting at 8 PM the '42nd Street Revisited' act, featuring Tom Saunders on cornet, could be seen in the tradition of Wild Bill Davison.
Tom was accompanied by the talented Eddie Higgins on piano and bassist Paul Keller who recently played with Diana Krall. They were joined by trombonist Laurie Bower, from the Laurie Bower Singers, and by popular Toronto drummer and jazz photographer Don Vickery.
At 9 PM the famous Oliver Jones Trio played a gig at the Montreal Bistro. The trio features Oliver on piano, Dave Young on bass, and Norman Marshall Villeneuve on drums. The London Jazz Society thanks all our members and friends who attended this live event.