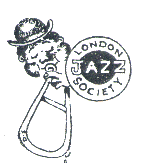 London Jazz Society
Recent Events
On July 1st, 2006 the
London Jazz Society
organized a bus trip to
the Toronto Jazz Festival
The Toronto International
Downtown Jazz Festival
On Saturday July 1st, 2006 the London Jazz Society organized a bus trip to the Toronto Downtown Jazz Festival. Back in January, the society reserved the smallest of three sizes the bus company had to offer. Much to our surprise, the smaller bus sold-out almost immediately. We then upsized to a mid-sized bus to allow more folks to join us, and as a result everyone that wanted to go did get a seat.
The bus left London around 11:00 a.m. on July 1, and arrived at the 'Sheraton Centre Hotel' in downtown Toronto a few hours later. This year marked the 20th anniversary of this world class festival. There were approximately 40 participating venues offering stage space to hundreds of jazz musicians from all four corners of the globe.
We cannot list all of the venues or acts here, because it would be a massive undertaking, but we can give you an idea of some of the highlights. The 'Rex Jazz and Blues Bar' is a few blocks west of the Sheraton Hotel. Events at the 'Rex' got underway around noon with the 'New Excelsior Jazz Band' a Dixieland group who were our guests here in London at our April 9th gig.
We did not arrive in time to catch their whole opening act, but the last part of it was available to those who wanted to see it. At 3:30 p.m. the Swing Shift Big Band, a great big band, took over the same stage at the 'Rex' and by this time jazz fans could decide to stay right as there where several outstanding acts were booked for the rest of the day. These included the T.J.O, Big Band at 6:30 p.m. and the Mike Murley Septet at 9:30.
Nathan Phillips Square is directly across from the Sheraton Centre and there were some free concerts performed there. The Hilario Duran Big Band played at 1:00 followed by several notable jazz groups. At the Workshop Lounge guitarist Lorne Lofsky discussed the role of guitarist's in the world of jazz. On the same stage, at 6:00 p.m., the saxophone virtuoso Mike Murley took over and he later performed again at the 'Rex.' Both of the Workshop Lounge performances were free.
Nathan Phillips Square had a major ticketed concert at 8:00 p.m. featuring the Laila Biali Trio with special guest's, the saxophonist's Pharoah Sanders and Kenny Garrett. Baili recently received the Best Keyboardist and Composer of the Year Award at the 2006 Jazz Awards at just 25 years of age. Her trio is made up of long-term band mates and friends, Sly Juhas on drums and Brandi Disterheft on bass.
Sanders possesses one of the most distinctive tenor saxophone sounds in jazz. His influences list Harold Land, Janes Moody, Sonny Rollins, Charlie Parker, and John Coltrane with whom he worked frequently on several recording sessions. Another very identifiable saxophone voice that has emerged in the last 20 years belongs to Kenny Garrett, who is another great player to come from the Motor City (Detroit.)
It was Garrett's work with trumpeter Miles Davis that brought him to the attention of international audiences. Garrett's own groups generally includes pianist Mulgrew Miller. Moving a little further a-field from the core area, the Montreal Bistro and Jazz Club featured the George Coleman Quartet in a ticketed concert. If you were looking for Classic Dixieland Jazz then you could have headed over to Grossman's Tavern at 379 Spadina Avenue where the Happy Pals played a three hour gig starting at 4:30 p.m.
At 9:00 p.m. up at the Silver Dollar Room at 486 Spadina there was a special All Star Tribute to Ray Charles featuring Liberty Silver. There were also a number of other lounges, and clubs, not officially part of the festival, that featured afternoon or evening events. One such place was Healey's at 178 Bathurst Street at Queens Avenue. Most Saturday afternoons Healey's is the home of Jeff Healey and the Jazz Wizards.
The London Jazz Society thanks all our members and friends who shared this adventure with us. For more information you can visit the Toronto Jazz Festival Website.