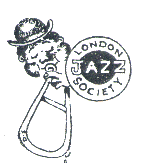 London Jazz Society
Recent Events
Our June 5th gig at the Shriners
featured the Sue J. Trio, and,
noted guest drummer Brian McHugh.
The Sue J. Trio
& Brian McHugh
On Sunday June 5th, 2005 at 2 P.M., following the Annual General Meeting, the London Jazz Society presented the Sue J. Trio, and, special guest Drummer Brian McHugh at the Mocha Shrine Centre, 468 Colborne Street. It was a memorable performance that provided a needed boost to get us through the summer break.
Sue divides her year between Rondeau Bay and the Gulf of Mexico. While in Ontario the trio can be found on Saturday evenings playing 'dinner jazz' at the Molly and OJ's Restaurant in Erieu with a taste that is as hard to resist as the food itself. Sue began playing piano at the tender age of three, but will not admit to how many years have intervened since.
She studied music at the University of Lansing in Michigan. Her singing is a fairly recent addition to the trio's performance, and many fans wonder why it has taken so long to add this feature as her voice and styling is sultry, to say the least.
Other members of Sue 'J.' are Ray Violet, bass and vocals, and St Clair Shadd on tenor saxophone. Ray Violet started playing guitar before becoming a teenager. By the time he reached 15 he was lead singer in a rock and roll band called Nexus. He learned to play double bass with the Chatham Concert Band.
St. Clair Shadd, like Sue, began his musical journey on piano. He switched to alto at age 12 and became a member of the Clarinet Chatham Police Boys Band. During the sixties he performed with various R&B bands in Detroit and Toronto. From 1970 to the present he has been part of the very popular Chatham Concert Band.
This time around the trio will be complemented by drummer Brian McHugh. Brian has an enviable resume that has seen him tour Canada, the USA, Europe, and the Caribbean. Mr. McHugh was part of the Canadian Ambassadors Jazz Orchestra that gave a command performance for the Queen at Buckingham Palace. The London Jazz Society thanks all our members and friends who attended this live event.