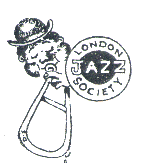 London Jazz Society
Recent Events
Our December 4, 2005 event
at the Shriners featured the fine
keyboard talents of Tom Starks
playing a classic Hammond Organ
Keyboardist Tom Starks
from Aylmer, Ontario
On Sunday December 4th, 2005 at 2 P.M. the London Jazz Society presented keyboardist Tom Starks and Friends at the Mocha Shrine Centre. This last gig of 2005 registered a 'first' for the society. This club has had many pianists visit us and either play acoustic piano or bring in their own keyboard that can do 'organ' but no one has ever brought their own classic Hammond B3 Organ with them.
Keyboard artist Tom Starks was also one of the guests that performed at Sarnia's CanAm Jazz Jam in August, 2005. CanAm drew approximately 30 London Jazz Society members as well as many fans and musicians from Sarnia, Southwestern Ontario, and Michigan. A good time was had by all and we are glad that Tom was able to join us in December.
Along with Tom on a Hammond B3 Organ we had the opportunity to enjoy the talents of Don Durkee on tenor saxophone, drummer Brian McHugh, vocalist Sharon Beeler, and Steve Smith on guitar. Both Tom and Don are London Jazz Society members and we were more than pleased to welcome them and their guests to our stage.
Tom began his professional career in 1972 as keyboardist with a show group touring Ontario and several Northern States. In 1974 he returned to his home town of Chatham and continued to perform with local artists while touring Southern Ontario. After 25 years of teaching, Tom and his wife Sonja moved to Aylmer where his main focus now is on jazz and a return to his first instrument, the Hammond B3 Organ. The London Jazz Society thanks all our members and friends who attended this live event.