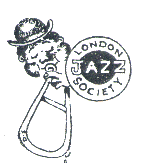 London Jazz Society
Recent Events
The London Jazz Society was
proud to present The Ragweed
Jazz Band at the Mocha Shrine
on Sunday November 14, 2004
On November 14th, 2004 at 2 P.M. the long awaited return of The Ragweed Jazz Band to the London Jazz Society stage was over. The band had agreed to pay us another visit on that date and they did so with great fanfare. Once again we regret that we only have nine gigs each year so that we cannot get these great musicians back as often as we would like. The Ragweed have just about done it all.
They have a regular gig at the Portly Piper Pub in Ajax which is just east of Toronto. They substitute regularly for the Climax Jazz Band at Toronto's Chick'n' Deli on Mount Pleasant at Eglington. Their travels have taken them to jazz festivals in Orillia, Toronto (du Maurier and the Beaches,) Essex Connecticut (the hot Steamed Jazz Festival,) Strongsville, Ohio (the Early-Jazz Fall Festival,) the International Ragtime Jazztime Festival in the USA, and the Canadian Big Band Festival. They have performed for the Simcoe County Jazz Society, The London Jazz Society, and have a number of up-and-coming gigs at the Lancaster Hotel in Kitchener.
Along with being the bassist, Bob Welbourn is also manager for the band. Ragweed had its beginnings three decades ago and Bob is one of its founding members. Another original member is Jim Nevins who returns after a 15 year absence. Jim has performed in Canada, the USA, and Europe and has worked with everything from big band to concert orchestras and small combos. Jim first pushed a slide 45 years ago but still claims Dixieland jazz as his first love.
Jamie Macpherson has twice been chosen Canadian National Banjo Champion. He has performed extensively in Canada, the United States, and the Caribbean. Drummer Pete McCormick was first inspired by Gene Krupa when Krupa was still with Benny Goodman. Pete was formerly with the climax Jazz Band. Alastair Lawrie got his first clarinet at 16 years of age at about the same time as he started listening to Benny Goodman. As a jazz reviewer for the Toronto Globe and Mail, he got to know (and occasioally play with) Bobby Hackett, Duke Ellington, Vic Dickerson and Buddy Tate.
Alastair also spent three years with Canadian vibraphone icon, Peter Appleyard. Al Cox spent many years with the Excelsior Jazz Band and now brings his versatile Dixieland style trumpet playing to Ragweed.The Band will revive memories of the golden age of jazz when Bix Beiderbecke, Louis Armstrong, Muggsy Spanier, Jack Teagarden, Duke Ellington, Benny Goodman, et al ruled the bandstands.