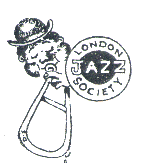 London Jazz Society
Recent Events
Our March, 2005 gig at the Mocha
Shrine featured the Bill Norris
Jazz Quartet of London, Ontario
The Bill Norris Jazz Quartet
On Sunday March 13th at 2 P.M. the London Jazz Society presented The Bill Norris Jazz Quartet at the Mocha Shrine located at 468 Colborne Street, just north of Queens Ave. This was the second time they have entertained London Jazz society members and friends. On their first visit they shared the afternoon with the North Park Community Big Band. This time it was the quartet alone but with two special guests.
In addition to playing tenor with his quartet, Bill is also a member of the Bill Sherry Big Band, the Music Makers Orchestra, and the aforementioned North Park Big Band. Along with a regular weekly practice with the quartet, Bill and a pickup group of musicians get together in pianist Grant Graham's music studio once a week to 'jam' for their own enjoyment. Alan Ogbourne is the pianist with the quartet. Although classically trained, Alan switched to jazz a number of years ago.
Up until two years ago Leon Ross was best known as a tenor player but a medical condition brought about a forced switch in instruments. Leon plays bass today with such skill that people who have only known him for less than two years think the bass was his instrument of 'first choice.' Drummer Bob Hughes retired some time ago as head of the percussion department with the Don Wright Faculty of Music at the University of Western Ontario. Bob has played in every musical environment possible from pit band to symphony orchestras with many small groups in between.
Multi instrumentalist Doug Keenan's talents include music teacher, pianist, publisher, and arranger. He was present with his trumpet and flugelhorn as one of the guests. Vocalist Sharon Beeler was also on hand to sing ballads, standards, and other favorites from the 30's and 40's that everyone likes to listen to. Sharon teaches music at Banting Secondary School and has guided a number of school choirs to win many awards. The London Jazz Society thanks all our members and friends who attened this live event.