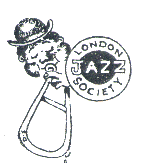 London Jazz Society
Recent Events
The 2006 LJS Season opened on
January 8th with a presentation
of the popular 'Music Makers
Orchestra' of London, Ontario
The Music Makers Orchestra,
a proud hometown group
On Sunday January 8th, 2006 at 2 P.M. the London Jazz Society presented this talented medium-sized orchestra that has over 450 years of collective experience. The 'Music Makers' play music from the Big Band era and have done so in almost every venue possible in London and Southwestern Ontario, including gigs with London's Royal Canadian Big Band Music Festival. We were proud to have them open the 2006 season for us and they put on a truly memorable show.
The rhythm section consists of Bob Hughes on drums, bassist Bob Livingston, Anne Rahn on keyboard, and Bill Stewart on banjo and guitar. All are retired and each has years of experience. The same can be said of the horn players. Dick Butterwick plays trumpet, Mac Cameron, who is the leader, plays alto and baritone saxophone as well as clarinet. Bill Norris plays tenor saxophone and George Stewart plays trombone.
Emma Dobrony is the Music Makers' more than capable vocalist. Put them together and they produce some of the most recognizable music from the 30's, 40's, and 50's. The individual members of the Music Makers have performed with some of the best known London bands, from not only the big band era, but bands that are still going strong today.
The list includes the Johnny Brennan Orchestra, the Johnny Downs Orchestra, the Bill Sherry Big Band, the Moonlighters Big Band, the Prime Time big band, and others. Our apologies if we left your favourite band off the list as they probably should have been included. The London Jazz Society thanks all our members and friends who attended this live event.