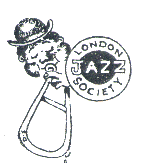 Join The London
Jazz Society
Overview
Who Are We?

The London Jazz Society is a non-profit society based in London, Ontario Canada that promotes jazz music by presenting live concerts, jazz radio programs and promotional materials covering local, regional and international jazz related activities. Membership in the London Jazz Society is open to all those who would like to show their support for jazz music. Non-members can also support the London Jazz Society by attending concerts and or donating to our endowment fund that is very much needed by students of the Faculty of Music, University of Western Ontario.
Benefits of Membership

By joining the London Jazz Society through our low annual fee you will be entitled to discounts at many of our concerts and you will be invited to join us for discount bus tours to jazz festivals in Toronto, Detroit and other destinations within a comfortable driving distance of London, Ontario. In addition to that you will receive, by mail, our informative newsletter that highlights upcoming events and activities of interest to jazz enthusiasts.
Cost of Membership
Membership in the London Jazz Society is for one year and is a bargain compared to other similar organizations, but a little can go a long way we make the best use of it.

Regular: $30.00
Senior:   $25.00
Student: $25.00
Couple:    $40.00
Senior Couple: $35.00
Send your payment to:
London Jazz Society
P.O. Box 2141, Station "A"
London, Ontario
Canada N6A 4C5
Society Board of Directors
President

Al Burton
824 Dalkeith Ave.,
London, Ontario
Canada N5X 1R8
Phone: 519-433-4789

First VP & Entertainment
Noel Van Dooren

Second VP & Membership
Truth Dunlop

Third VP & Publicity
Christopher Fleming

Treasurer
Randy Stewart

Secretary
Jean Allan

Ways and Means
Pauline Williamson

Website
Christopher Fleming


Society Advisory Board
Peter Appleyard
Musician
Jazz Educator
Phil Nimmons
Musician
Jazz Educator
Douglas Proudfoot
Lawyer
Martin Stambler
Lawyer
Oscar Peterson
(In memory of a jazz legend who was a member
of the London Jazz Society Advisory Board)
Questions or comments about this website?
Contact the
Webmaster
by email.