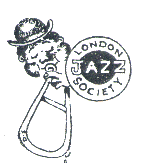 Join The London
Jazz Society
Overview
Who Are We?

The London Jazz Society is a non-profit society based in London, Ontario Canada that promotes jazz music by presenting live concerts, jazz radio programs and promotional materials covering local, regional and international jazz related activities. Membership in the London Jazz Society is open to all those who would like support jazz music. Non-members can also support the London Jazz Society by attending concerts and or donating to our endowment fund that provides annual grants to students of the Faculty of Music at Western University.
Benefits of Membership

By joining the London Jazz Society through our low annual fee you will be entitled to discounts at many of our concerts, and you will be invited to join us for low cost bus tours to jazz festivals in Toronto, Detroit and other destinations within a comfortable driving distance of London, Ontario. In addition to that you will receive, by mail, our informative newsletter that highlights upcoming events and activities of interest to jazz enthusiasts.
Cost of Membership
Membership in the London Jazz Society is for one year and is a bargain compared to other similar organizations, but a little can go a long way we make the best use of it.

Regular: $35.00
Couple:    $50.00
Senior:   $30.00 (60+)
Senior Couple: $45.00 (60+)
Student: $30.00
Send your payment to:
London Jazz Society
P.O. Box 25141
London, ON N6C 6A9

Society Board of Directors
President

Barbara Wenman
Phone: 519-681-6767

Past President
Al Burton

Vice President
Christopher Fleming

Treasurer
Randy Stewart

Secretary
Jean Allan

Directors
Noel Vandooren
Pauline Williamson
Raymond Lloyd

Membership Director
Christopher Fleming

Newsletter & Website
Christopher Fleming


Society Advisory Board
Phil Nimmons
Musician
Jazz Educator

Douglas Proudfoot
Lawyer

Martin Stambler
Lawyer

Oscar Peterson
(In memory of a jazz legend who was a member
of the London Jazz Society Advisory Board)

Peter Appleyard
(In memory of a jazz legend who was a member
of the London Jazz Society Advisory Board)