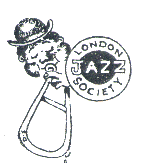 London Jazz Society
Recent Events
The LJS November, 2005 show
at the Shriners featured the
singing talents of Jessie Ross,
a much loved hometown girl
Jessie Ross and Friends
from London, Ontario
On Sunday November 13th, 2005 at 2 P.M. the London Jazz Society presented London's own vocal sensation Jessie Ross. At age 13, Jessie began listening to legendary vocalists Ella Fitzgerald, Sara Vaughn, and Carmen McCrea, which furthered her own interest in singing. She attended the University of Toronto's Music Program, in 1999, but was forced to drop out due to a vision problem.
Jessie is currently studying English Literature at the University of Western Ontario and just started her first music course there as well. She performs regularly in local clubs and has travelled to the United States and Europe. Jessie was awarded the International Young Soloist Award from the Rose Kennedy Foundation following a performance at the Kennedy Centre in Washington D.C.
While in Italy, she made two international television appearances on RAI, Italy's National Broadcaster. She, along with guitarist/bassist John Kenny, opened for Toronto's Alex Pangman and Her Alleycats at the Aeolian Hall, on Friday August 19th, as part of the 2005 Summer Music Festival. Jessie's newest interest is composing, and she played some of her originals on November 13th.
In addition to guitarist John Kenny, Jessie had with her vocalists Catherine McInnes and Carole Allison, drummer Ian MacKay, and brother Alexander Ross on bass. The London Jazz Society thanks all our members and friends who attended this live event.