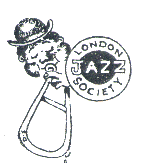 London Jazz Society
Recent Events
Our January gig at the Mocha
Shrine featured London's own fine
combo called "Jazz Jazz Jazz."
Jazz Jazz Jazz Quartet
On Sunday, January 9th at 2 P.M. the London Jazz Society presented this fine combo at the Mocha Shrine, 468 Colborne Street, just north of Queens Ave. JAZZ JAZZ JAZZ is not only the name of the group that were our guests on that date, it also spells out what the group is all about. It all started as a duo in the year 2000 with Jayne Hysen on piano and vocalist Carole Allison.
In the intervening years the duo has evolved into a quintet with the addition of bassist Jedd House, drummer Al Taylor, and guitarist Andrew Mawdsley. The group has performed at many London and Southwestern Ontario venues including Maggie's Jazz Lounge, Scallions, The Bacchus Lounge, The Old City Hall, Copperfields, The London Underground, The Oasis at Fanshawe College, and The Trinity Lounge in Sania.
JAZZ JAZZ JAZZ opened the gala to celebrate Black History Month (February 2004) which was held at The London Regional Art Gallery and Museum. The members of JAZZ JAZZ JAZZ are all experienced musicians whose individual musical talents blend together to create music that is both energetic and evocative.
Swing, jazz, Latin jazz, standards and modern interpretations and general jazzifications of pop classics like "The Beat Goes On" receive special treatment from the group. Vocalist Carole Allison adds that certain something to every song she sings. The London Jazz Society thanks all those who came out to enjoy the opening gig for 2005 and for your continued support of jazz music in London and Southwestern Ontario.