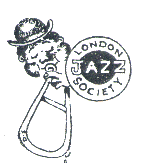 London Jazz Society
Recent Events
Our December gig at the Mocha
Shrine featured London's own great
combo The Mark Henning Quartet.
Mark Henning Jazz Quartet
On Sunday, December 5th at 2 P.M. the London Jazz Society presented the Mark Henning Jazz Quartet, with special guest Scott Edwards at the Mocha Shrine located at 468 Colborne Street, just north of Queens Ave. Guitarist and vocalist Mark Henning, has always been a strong supporter of the London Jazz Society and this event was a fitting way to close out the year 2004. One of this groups first gigs, back in the 80's, was with the London Jazz Society, and now the list of venues where they have performed is too long to list here.
In 1998 Mark's group backed Canadian jazz icon Phil Nimmons when Phil was featurd at a London Jazz Society event. Pianist Don Di Carlo is one London's 'best keep secrets' but no one knows why! He has performed with Canadian stars Keith Barrie and Denise Pelley as well as International names that include Matt 'guitar' Murphy and Chuck Berry. Don completed the Berklee College of Music (Boston) out source program and also studied privately with Mark Eisenman of York University and Mohawk College. He has performed with Orchestra London and was featured on accordion and piano in Theatre London's production of Fiddler on the Roof.
Bassist John Kenny has performed across Canada and the U.S.A. He is possibly the only musician to have performed with such diverse groups as the Duke Ellington Orchestra and TVO's Polkaroo. His stage credits include: A closer Walk With Patsy Cline; Fire; Lovin' Lyin' and Leavin' and 18 Wheels. He is a featured performer with Orchestra London and has been heard in concert in Toronto at Ontario Place, the CNE, and the City Hall with Juno Award winner Christopher Ward (Black Velvet.) Television credits include the CBC's After Four Series where he was a regular and TVO's Nightmusic.
Drummer Brian McHugh is a graduate of the Percussion Institute Hollywood, California. He has toured Canada, the U.S.A., Europe and the Caribbean. Special guest, tenor saxophonist Scott Edwards has been a professional for 25 years. While pursuing a music degree at the University of Western Ontario he had the pleasure of playing in the UWO Jazz Ensemble under the direction of Phil Nimmons.