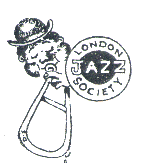 London Jazz Society
Recent Events
Our May 15th gig at the Shriners
featured the Dean Harrison Group,
and Sonja Gustafson a great vocalist.
The Dean Harrison Group
& Sonja Gustafson
On Sunday May 15th, 2005 at 2 P.M. the London Jazz Society presened this fantastic group at the Mocha Shrine located at 468 Colborne Street, just north of Queens Ave. This Group and Sonja have both been fixtures on the London and Southwestern Ontario jazz scene for some time now.
Sonja and Dean's regular Thursday night gig at the Honest Lawyer nightclub makes it a popular 'place to be' for many of their fans. The group also has a regular Wednesday night gig at Barney's in the Ceeps which also attracts appreciative audiences.
For Sonja and Dean's visit to the London Jazz Society stage on May 15, we not only got to listen to great piano and vocal styles but the group also featured the amazing talents of Paul Mitchell on trumpet, Seth McNall on trombone, Chris Norley on guitar, Peter Hysen on bass, and Ted Peacock on drums.
Sonja Gustafson has been studying music since childhood. She attended high school at the internationally renowned Interlochen Arts Academy in Michigan. Upon graduating she moved to London to continue her musical studies at the University of Western Ontario's Don Wright Faculty of Music.
There she participated in several Opera productions as well as Early Music Studio, and the award winning Faculty Singers. She was a finalist in the London Opera Guild competitions. At Western she earned an Artists Diploma in Voice Performance.
Since graduating Sonja has kept more than busy performing as both a jazz and classical vocalist throughout London and area. She is the soprano soloist at First Street Andrew's Church, and is a regular on the jazz scene at Maggies Supper Club and Jazz Club, The Honest Lawyer, and other venues. Sonja is currently involved in several projects including the making of a jazz CD which should be released this year. The London Jazz Society thanks all our members and friends who attended this live event.