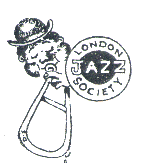 London Jazz Society
Recent Events
On October 16, 2005 the London
Jazz Society presented the amazing
Club Django Band which is a tribute
to the legendary Django Reinhardt
The Club Django Gypsy Swing Band
On Sunday October 16th, 2005 at 2 P.M. the London Jazz Society opened the 2005/2006 season with a special presentation of the Club Django Gypsy Swing Band from Toronto. This renowned six piece group was nominated for the Best Acoustic Group of the Year Award at the 2003 National Jazz Awards. The following is a brief history of the origins of Django Reinhardt, and the legendary 'Hot Club of France.'
Jean-Baptiste Reinhardt (1910-1953) was born in the Belgian town of Liverchies into a Gypsy tribe of Northern European origin. Django (the D is silent) spent his youth wandering throughout Belgium and France with his family's caravan. He taught himself to play banjo and guitar, and soon became skilled in the latter. When he was 18 he was badly burned in a fire in the caravan and lost the use of two fingers on his left hand.
He began playing the guitar again almost immediately, and his accident forced him to play in a purer, more deliberate way and may even have improved his style. No one knows when Django first became attracted to jazz. it must have been soon after the fire because by 1933, in Paris, he had already teamed up with violinist Stephane Grappelli.
In 1932, some young Parisians had formed a jazz appreciation society and called it 'The Hot Club of France.' In 1934 the club presented the first Grappelli/Reinhardt jam session to the public which was so enthusiastically received that they stayed on to become 'The Quintet of the Hot Club of France.' Their all-string instrumentation (three guitars, bass, and violin) made them seem somehow quintessentially European.
The group included Django's brother Joseph who also played guitar. A musician from England, who was also to become world famous, occasionally performed and recorded with the quintet but was not a regular member. His name is pianist and accordianist George Shearing.
By the mid 1930's Europe had produced its first (and to this day, its greatest) jazz genius, Django Reinhardt. As the Nazi's were sweeping across Europe, members of the Hot Club were forced to flee to England. Django, being gypsy, would not have survived Hitler's policy of ethnic cleansing.
The London Jazz Society thanks all our members and friends for attending this live event at the Mocha Shrine Centre. For more information about this facinating Canadian group from Toronto, Ontario check the Club Django Website on the world wide web.