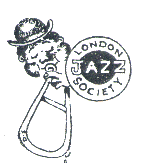 London Jazz Society
Recent Events
On December 3rd, 2006 the
London Jazz Society presented
the ever popular local combo
the 'Dean Harrison Jazz Group'
The 'Dean Harrison Jazz Group'
well-known jazz performers
On Sunday December 3rd, 2006 at 2 P.M., London Jazz Society members and friends had the opportunity to hear one of London's most celebrated pianists. Dean Harrison's resume, since he began performing professionally 15-plus years ago, reads like a 'where, why, what, and when' of jazz gigs et al. Performances at the Grand Theatre include being pianist in productions of 'Guys and Dolls' and 'West Side Story', as well as musical director, modern version transcription for 5 peace pit band, and acting and singing in 'Joseph and the Amazing Technicolor Dreamcoat'.
Palace Theatre productions saw Dean as assistant musical director, rehearsal and pit pianist and additional orchestrations for 'Meet Me in St. Louis'. Dean was also rehearsal and pit pianist, and did additional orchestrations for 'Sweet Charity'. Four productions took Dean to the University of Western Ontario's Talbot Theatre for 'Jesus Christ Superstar' (pit keyboards), 'Evita' and 'How to Succeed in Business' (rehearsal and pit pianist), as well as 'Annie Get Your Gun'
For 'A Closer Walk With Thee' Dean travelled to Lamb's Theatre, Broadway as pianist, actor and singer. The opening and closing ceremonies of the 2001 Canada Games, which were broadcast on TSN, featured Dean as singer/player and also as musical director/arranger for the Games 'London Now Concert'. He has also been a featured soloist with Orchestra London, the Kitchener Symphony, and the International Symphony Orchestra.
He was vocalist/arranger for 5 years with an 8 piece swing ensemble called 'Sugar Daddeez' and a second 8 piece New Orleans ensemble (for 10 years) named 'Voodoo Butter', and for a 5 piece French Gypsy ensemble called 'Paris Swing'. Saxophonist Paul Fleming moved from London some years ago, and has been greatly missed. We are happy to announce that Paul and his wife have moved back to Stratford, in Southwestern Ontario, and were with us on December 3rd.
Kim Ladd is a double bassist that we enjoyed hearing and seeing for the first time. Dean cannot say enough about Kim's talents. There was a time when Ian Mackay was referred to as 'one of London's up-and-coming young drummers'. Today he is referred to as 'one of Londonís established young drummers' and performed with Dean at this event.
Guitarist Chris Norley, a well-known and very active personality in the jazz scene of Southwestern Ontario, also joined Dean for this show. Chris has brought to London a number of Toronto Jazz Legends to perform with his group in the Grad Club at the University of Western Ontario. The London Jazz Society thanks all our members and friends who attended this live event.