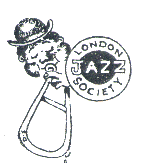 London Jazz Society
Recent Events
On October 15th, 2006 the
London Jazz Society was
proud to present Toronto's
famous 'Climax Jazz Band'
The 'Climax Jazz Band' a
renowned Dixieland Group
On Sunday October 15th, 2006 at 2 P.M., London Jazz Society members and friends enjoyed some of the finest New Orleans style jazz available. This legendary Dixieland jazz group is Canada's best known, world-traveled, band and we are lucky that their home town is just a short drive up highway 401 in Toronto, Canada. Tickets for this concert sold well in advance and with a few added sales at the door the main concert hall at the Mocha Shrine Centre was filled to capacity.
The Climax Jazz Band began their musical journey in February 1971. After a few rehearsals, they got their first gig in Albert's Hall upstairs at Ye Olde Brunswick House. Our most recent communique from the Climax Band included a copy of their 'Summer 2006 Newsletter.' We included this newsletter as part of our September mailing to members of the London Jazz Society. The Climax band lists many of its upcoming events there and the visit to the Mocha Shrine Centre was included.
For the London visit, on October 15th, the Climax Jazz Band included the band's founder Chris Daniels on bass and vocals. Other longtime members of the band (not all were present in London) include banjo player Jack Vincken (since 1974), trombonist/vocalist Len Gosling (since 1981), and drummer Jamie Aug (since 1987). Dr. Dave Kosmyna plays cornet and is a Professor of Jazz Studies at the University of Northern Ohio.
The sixth member of the Climax Jazz Band who has been performing with them recently needs no introduction. Chris Robinson was born in London, Ontario and comes from a very musical family. He is a graduate of Humber College and now lives in Toronto where he leads his own band. Chris has performed with Peter Appleyard, toured extensively, and played on numerous cruise ships.
London area jazz fans were delighted to see a fine local musicain Bill Stewart playing banjo with the Climax Jazz Band for this concert. A talented guest drummer from Scotland was also featured in this London visit. The London Jazz Society thanks all our members and friends who attended this live event.