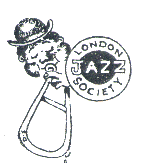 London Jazz Society
Recent Events
On Sunday October 5th, 2008 the
London Jazz Society presented
the ever popular 'Cameo Jazz Band'

'Cameo Dixieland Jazz Band'

On Sunday October 5th, 2008 at 2 P.M., the London Jazz Society kicked off a new season of great jazz with the famous Cameo Dixieland Jazz Band. This show was presented on the main stage at the Mocha Shrine Centre, 468 Colborne St. The group was to feature leader/trombonist Peter Emmans who, we are sad to say, was unable to attend due to health problems. We wish Peter a speedy recovery and we hope he will join us at some future event. A get well card was signed by many people there and I am sure he appreciated it very much. The group did show up though and did a great job even without all its members present.
The Cameo Jazz Band has changed its line up of musicians, most notably was the absence of drummer Ken Biggers who moved to Cape Breton. The band has been performing without a drummer, and they still sound good, so they have decided to continue on without one for a while. Jim Groulx, from Woodstock, is the Musical Director of Cameo and is also the driving force behind another group called the 'Toronto Banjo Band'. Tuba player Tom Elliott is the back end of the Toronto Banjo Band and central to the sound of the Cameo Jazz Band. Cornetist Allan Colter performs with Cameo as well as other groups giving him three or more gigs each month.
Bill Bricknall, clarinetist with Cameo, is a fitness buff who not only loves playing clarinet but also loves walking great distances (not at the same time of course). Leader/trombonist Peter Emman lives in Woodstock, Ontario and also plays piano and does vocal selections for the band. His hobby is antique cars and motorcycles. The ages of the members of Cameo range from the early to late seventies so they have all been active in music for many years. The band has recorded on CD and their CD was available for purchase on October 5th.